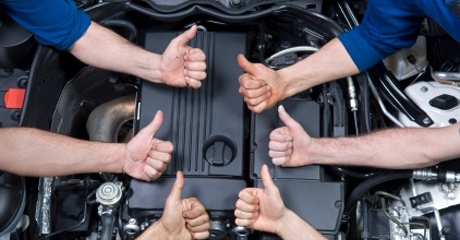 Ontario Updates Safety Inspection Rules for Used Cars Buyers
Disco, platform shoes, ABBA and lava lamps were all part of the 70s'. The 70s' also marked the last time Ontario updated their regulations for vehicle safety inspections. A lot has changed since the 1970s and as of Canada Day so are safety inspections on used vehicles.
Every vehicle being sold must pass Ontario's new safety inspection rules. If a vehicle is being sold to someone who is not the seller's spouse will need to undergo the new inspection. Also, any vehicle being rebuilt will need the inspection completed.
Overall, the inspection didn't change a lot. It focuses on the safety of the vehicle. The goal was to clear up some grey areas of the certification. The new vehicle inspection requires the technician to provide exact measurements for things such as brake part thickness, tire pressure and tread depth.
Past reports were vague on brake and tire wear. One Kingston automotive repair shop may pass a vehicle, while another may fail it. The new system does not leave room for such interpretations. People will have an exact gauge of wear before the sale is complete.
Additionally, the new inspection requires that all warning lights, airbags, speedometer, and odometer are in working condition. There are even ways to report damage to windshields.
The Government of Ontario did their homework when creating the new vehicle inspections. They consulted with 33,000 technicians at over 15,000 inspections over the last four years. Rates do vary from shop to shop. If a vehicle fails an inspection, the owner will get an additional inspection for free if they made any relevant repairs with four days.
Every province has their own vehicle safety certification checklist. Like Ontario, Manitoba and Newfoundland require a safety inspection on all vehicles changing. British Columbia, Alberta, Saskatchewan and Quebec require inspection on vehicles purchased outside the province. Meanwhile, Prince Edward Island and New Brunswick require inspections on any vehicle sold. Nova Scotia requires a vehicle to be check every two years (three years for a new car).
At CarOne Kingston we service all makes and models and our experienced technicians would be happy to inspect your vehicle. Additionally, we are a certified Drive Clean facility. Learn more about Ontario's new safety inspections or book an appointment by calling 613-542-2223 or book an appointment online. Remember, at CarOne Kingston Service; we pay the tax on all automotive repair and maintenance.